Tooth Implant Dentistry in Noblesville, IN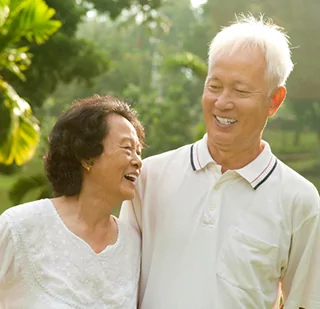 We hope our patients never have to deal with permanent tooth loss, but for our patients who have lost teeth in an accident, or due to aging or other concerns, Dr. Pence and Dr. Behner have restoration dentistry services that can get you your smile back. With modern technology, we can end your tooth loss related discomfort and raise your confidence again!
What Is a Tooth Implant?
For our Fishers, IN, patients who are missing teeth, we offer implant dentistry services. A tooth implant is a synthetic tooth root created with a special titanium alloy that can fuse directly with your bone. Dr. Behner, DDS, uses this technology to provide his patients in Fishers with a perfect root replacement that will support their jawbone and keep their mouth strong and healthy. Dr. Behner, DDS, can copy the natural root and tooth system of your mouth and fill your gap with a stunning dental implant near Noblesville.
What Are the Benefits of Dental Implants in Fishers, IN?
Health | After you've lost a tooth the bone underneath can deteriorate without sufficient support. Dental implants prevent deterioration, keeping a youthful appearance and maintaining bone structure.
Beauty | Dental implants are crafted to look just like your natural teeth. Our goal is to make sure no one can tell you're sporting an implant.
Comfort | Unlike traditional dentures that can slip and feel awkward, your tooth implant may feel so natural you might even forget that it's an implant.
Functionality | Combined with a dental crown, you will be able to enjoy all the benefits you enjoyed with your natural teeth. This means being able to chew and talk without restriction.
Durability | We use the highest quality materials in our dental implants—so they're built to last. With proper oral care dental implants can last a lifetime.
Real Patient: Young man wouldn't smile due to congenitally missing teeth—Ortho, Implants, Crowns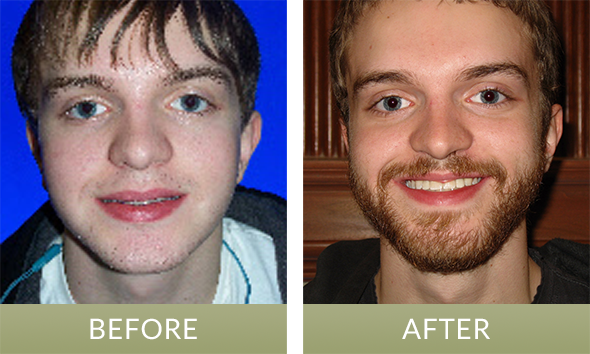 What Is the Implant Dentistry Procedure near Indianapolis, IN?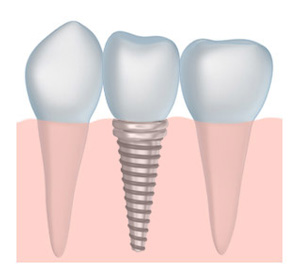 Dr. Pence, DDS, or Dr. Behner, DDS, can perform the entire implant dentistry procedure at our office. If you want to replace your lost tooth with a replacement tooth, call us for a consultation. Dr. Pence, DDS, or Dr. Behner, DDS, will discuss your implant dentistry options and find a way to best tailor the procedure to meet your individual needs.
As an expert in implant dentistry, Dr. Pence and his team utilize surgical guides for placing implants to ensure the implant is placed in the exact correct position and angle. After the tooth implant is placed in the gumline, patients generally need 3–6 months of healing time. During this period the implant will fuse to your jaw bone and begin supporting it like your natural tooth did. Once the area around the implant has healed, Dr. Pence, DDS, or Dr. Behner, DDS, will attach the permanent dental crown, and you'll be able to leave the office with a fully functional smile that looks and feels completely natural.
With this procedure, dental implants can even be used to hold dentures in place. To find out more, please visit our dentures page.
Cone Beam CT (CBCT) Scanner for Dental Implants Procedures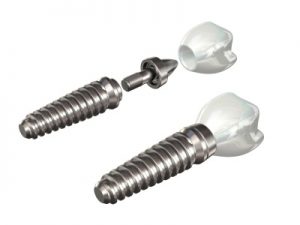 Here at Pence Family Dentistry, Dr. Pence, DDS and Dr. Behner, DDS, utilize Cone Beam Scanner technology to assist with the precision placement of dental implants. A CBCT scan produces detailed 3D X-ray images that your doctor can then use to make sure your dental implants are placed exactly where they need to be. Cone Beam CT scanner technology will allow your implant dentist to avoid nerves during the procedure and make certain that your implants posts are secure.
Schedule a Tooth Implant Consultation Near Fishers and Indianapolis!
To find out more about our implant dentistry options and to schedule an appointment, contact our office in Fishers. We would be happy to help you schedule a conference with Dr. Pence, DDS, or Dr. Behner, DDS, where they can answer any questions you might have if you are in the Indianapolis area, from Carmel to Noblesville and Fishers!
Proud Member: American Academy of Implant Dentistry